The application of digital videos, images, Machine Learning algorithms, and Deep Learning models make it possible to train computers to interpret as well as understand the visual world in ways humans do—this is where image annotation steps in.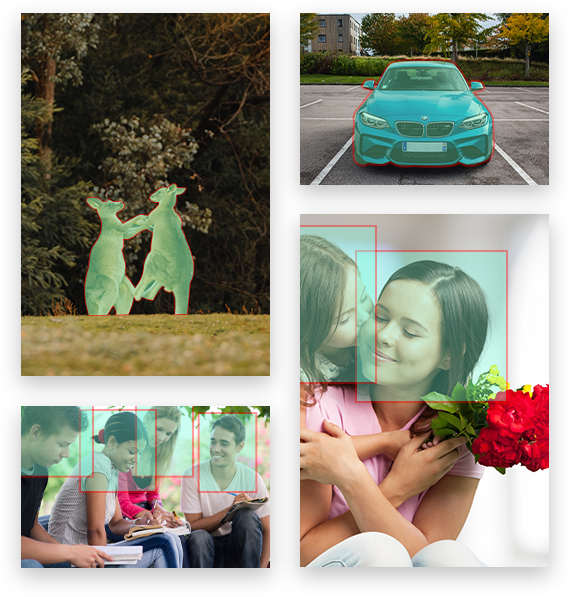 Image Annotation in Machine Learning
Computers do not have an intelligence of their own. Just like a human child, these Machine Learning algorithms have to be taught—using the strategic combination of human experience and datasets. In practice, image annotation is the process of adding tags and labels to the input datasets that have to be fed into the AI/ML models.
These tags and labels help the Machine learning algorithms to detect and understand different objects in their surroundings by providing context. Plus, they can also calculate the attributes easily. The accuracy of the Computer Vision model is determined by the quality of these annotations whose usage extends beyond the recognition of different classes and classification of varied objects in an image. Let's explore these:
Businesses opt for robotics solutions because of higher productivity, cost-efficiency, the absence of human resources, and faster performance. AML-driven robotics machinery is trained with labeled datasets to perform authentic human operations that wouldn't be possible without extensive data annotation.
With integrated automation, image annotation in robotics covers the entire breadth of industries, be it agriculture, biotech, or manufacturing. It is used for highlighting storage units and packages, delineating the movement of boxes in warehouses, and improving overall production yields. The bots are exposed to giant volumes of data to observe the surrounding environment and detect potential blockers and barriers throughout the movement to be assured that objects are dropped at the target destination.
Despite the common consensus that they are lagging, insurance is one of the sectors that benefit most from inbuilt AI. The bottom line is that AI has to be trained for extreme accuracy to substitute manual damage evaluation— this is possible only with chunks of annotated data featuring vehicle defects. The ML model, with an advanced assessment level, provides an ultimate prediction of whether the part needs a replacement or not; more progressive models can, in fact, calculate the exact cost of the replaced part.
Insurance can bring a considerable reduction in response time, enhance its customer experience, and save financial as well as human resources with extensive pattern recognition.
AI/ML-based models are a blessing to the medical industry. Escalating developments in AI get the credit for modern healthcare system success. Diseases such as blood clotting, brain tumors, and a handful of neurological disorders are detected via CT scans and MRI, both of which functions are based on well-trained ML models with considerable medical image data.
Other image label medical use cases vary from quantitative analysis for cancer cell detection to teeth segmentation, kidney stones, and eye cell analysis up until microscopic cell analysis on nano levels. The ML models use these datasets to perform deep learning to develop an automated diagnosis mechanism for healthcare professionals.
These days, you need not wrap your head around convoluted algorithms just to find your exact outfit match. Premature image annotation and data labeling have cut you slack; thus, making trendy clothing and accessories recognizable by AI-based tech. You can even receive customized fashion analytics with trend forecasting by using available technology and be assured that you are producing or purchasing the right design at the right time.
As a customer, you can find as well as shop anything you take a snap of. With proper training, CV can quickly recognize fashion items as well as connect you with the respective retail store—just like a shopaholic's dream. Besides, fashion-based image annotation is a win-win as it expands the customer flow; thereby, giving shop owners a competitive advantage.
In retail, the image annotation process is all about creating novel dimensions not only for e-commerce but for other subdivisions as well. It has become a prerequisite for the retail industry to deliver a high-quality shopping experience. Its use cases vary from virtual inventory management to human counts, shopping counts, as well as time spent on a product, up until interested object interactions.
Owing to this spectrum of functionalities, AI/ML-based models become more and more integrated into the stores' merchandising efforts. The bold attempt to match the virtual product to the actual has revolutionized the shopping culture, continuously making predictions on customer behavior. So, it can be rightly said that the use of a CV in retail couldn't be more promising, and for a good reason.
Image labeling serves the sports industry in multiple ways, ranging from sports analytics to individualized fitness program detection. Computer Vision helps with navigation as well as performance assessment without direct human interaction in group sports. Especially during COVID-19, AI-driven technology in sports helped at-home fitness practitioners stay afloat during the pandemic. Programs for individuals could be designed to maintain the desired physical condition and shape for a particular body type —all thanks to the CV that made it possible.
For instance, take soccer: AI advances allow for tracking the movements of individual players with unmatched precision, helping with the assessment as well as evaluation of the team strategy. A plus point, consistent observations can even identify patterns in soccer and almost encode the opponent's strategy.
Key Thoughts
The escalating shift towards digitalization globally emphasizes the need for machine AI/ML models' ability to detect and classify objects. And, AI Image annotation is the nexus of your best Computer Vision results, irrespective of the industry.
As image labeling is tedious and time-consuming, engaging in an image annotation service proves to be a smart decision. By outsourcing the burden of meticulous annotation to professionals, you get accurate quality datasets within the stipulated time, which enables you to accelerate your AI/ML model implementation process.